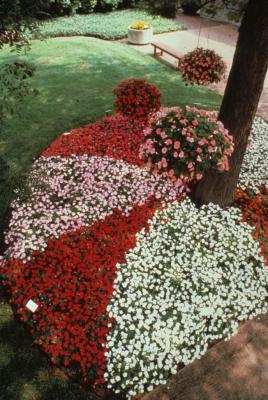 Impatiens walerania 'Dazzler'
The number one selling bedding plant offering bold dependable color all summer long in shaded areas. New Guinea impatiens (
) offer the addition of colorful foliage to go along with larger, more colorful flowers and can also be used in areas receiving more sun.
Impatiens do best in shade, with the exception of the New Guinea type that tolerates and does better in areas receiving partial sun. All benefit from at least afternoon shade. Soils that retain moisture is beneficial to maintaining quality. Good drainage is important for New Guinea types.
Heavy watering and high fertilization can cause even the compact varieties to strech and grow quite tall. If plants get too tall, pinch them back. They recover quickly and neater plants are the result.