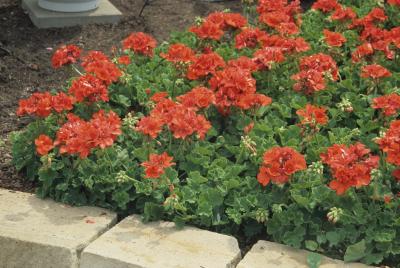 Quick Profile
Exposure
Full Sun

Mature Height
12 - 18 Inches
Soil Conditions
Moist, Well-Drained

Bloom Color
Bi-color
Pink
Red
Salmon
White

Bloom Season
May - October
Hardiness
Tender Annual

Size
Small
Medium

Features
Popular bedding and container annual. Many colors and leaf variegations available. In addition to the zonals, ivy geraniums are available for use in baskets and as a "geranium groundcover."
Culture
Full sun in moist, fertile, well-drained soil.
Cultivars
Zonal
'Orbit' series
'Ringo' series
'Bullseye' series
'Pinto' series
'Score' series
'Elite' series
'Maverick' series
Ivy
'Summer Showers' series
'Tornado' series
Notes
Avoid overwatering during hot weather. Deadheading needed to maintain good blooming plants and to lessen botrytis.