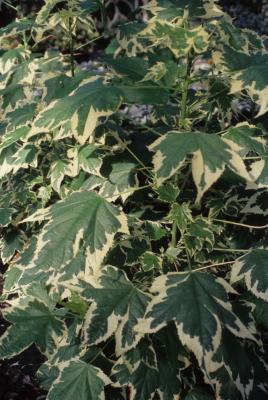 Abution 'Souvenior De Bonn'
Quick Profile
Exposure
Full Sun
Partial Sun/Shade

Mature Height
1 - 4 Feet
Soil Conditions
Moist, Well-Drained

Bloom Color
Bi-color
Peach
Pink
Red
Yellow

Bloom Season
June - October
Hardiness
Tender Annual

Size
Medium
Tall

Shrub-like plant with maple-like foliage and hibiscus like flowers. Good as a container plant or specimen in the garden. Variegated leaf types and pendulous types available.
Full sun to very light shade in a moist soil. Light afternoon shade is helpful to prevent wilting of the plant in the heat of the day.
Prefers moist soil and light afternoon shade. Pinch the tops of branches to promote a more compact plant. Can be brought in for the winter and used as a houseplant, thus the name 'Parlor Maple.' Put in a bright light location for best results.