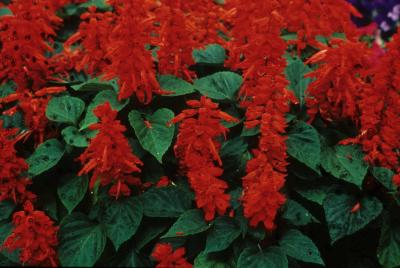 Salvia splendens
Quick Profile
Exposure
Full Sun

Mature Height
10 - 24 Inches
Soil Conditions
Moist, Well-Drained

Bloom Color
Bi-color
Lavender
Pink
Purple
Red
Salmon
White

Bloom Season
May - September
Hardiness
Tender Annual

Size
Medium
Tall

Features
Stocky, well-branched plants with flower spikes that rise above dark green glossy foliage.
Culture
Full sun, in moist well-drained soil.
Cultivars
'America' 12-24 inches tall, deep red flowers
'Red Hot Sally' 6-12 inches tall, red flowers, short compact plant
'Salsa Plum' 6-12 inches tall, burgundy flowers
'Sizzler Mix' 10-14 inches tall, mixed colors, early flowering
Notes
Deadhead to encourage bloom throughout the season. Fertilize well as the plants are heavy feeders.