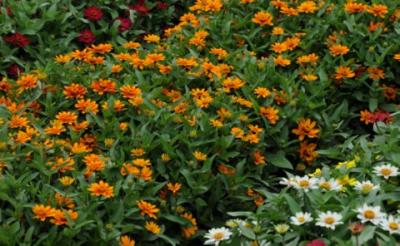 Quick Profile
Exposure
Full Sun

Mature Height
8 - 36 Inches
Soil Conditions
Moist, Well-Drained

Bloom Color
Green
Lavender
Pink
Red
White
Yellow

Bloom Season
May - September
Hardiness
Tender Annual

Size
Medium
Tall

Features
Good garden annual for beds or pots. Good cut flower. Large colorful blooms on very sturdy plants. Bloom size ranges from 1-4 inches in diameter.
Culture
Full sun, in moist well-drained soil.
Cultivars
Zinnia elegans
Short (8-12 inches)
'Dreamland' Series
'Magellan' Series
'Short Stuff' Series
'Thumbelina' Series
Medium (14-18 inches)
'Bridesmaid'
White Wedding'
'Champagne Toast'
'Lilliput' Mix
Tall (2-3 feet)
'State Fair'
'Zowie Yellow Flame'
'Giant' Series
'Oklahoma' Series
Zinnia angustifolia
'Profusion Double' Series
'Profusion Knee High' Series
Zinnia marylandica
'Zahara' Series
'Uptown' Series
'Double Zahara' Series
Notes
For dependable, low maintenance zinnias resistant to powdery mildew, consider using Zinnia angustifolia cultivars. They produce numerous single flowers on compact spreading plants. They include: 'Crystal White' 10-14 inches tall, white flowers; Crystal Orange 10-14 inches tall, orange flowers; 'Star Orange' 10-14 inches tall, orange flowers; 'Star White' 10-14 inches tall , white flowers. The 'Profusion' Series, Zinnia hybrida also are excellent choices for disease tolerant zinnias.

Deadhead for continuous bloom.