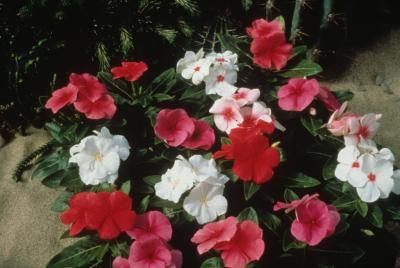 Vinca 'Pacifica Mix'
Quick Profile
Exposure
Full Sun

Mature Height
9 - 16 Inches
Soil Conditions
Dry

Bloom Color
Bi-color
Pink
Purple
Red
Salmon
White

Bloom Season
June - September
Hardiness
Tender Annual

Size
Small
Medium

Features
Excellent annual for bedding and containers. Performs very well under stressful conditions of heat. Both compact mound plants and trailing varieties available. Colorful flowers often with contrasting "eye". Glossy green foliage.
Culture
Full sun and well-drained soils.
Cultivars
Upright Types
'Cobra' Series
'Cora' Series
'Jams 'N Jellies'
'Pacifica' Series
'Titan' Series
'Victory' Series
'Sunstorm' Series
Trailing Types
'Boa' Series
'Cora Cascade' Series
'Mediterranean' Series
Notes
Vinca performs best in full sun with well drained soils. It does not like to be planted into cold wet soils so allow soils to warm in the spring before planting. Don't plant too early.