Directorio de Anuales
Este directorio se encuentra disponible únicamente en Inglés.
Coleus
Solenostemon scutellarioides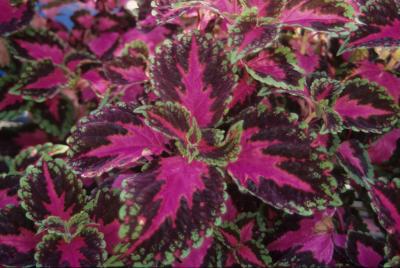 Coleus 'Violet Tricolor'
Quick Profile
Exposure
Full Shade
Full Sun

Mature Height
8 Inches - 2 Feet
Soil Conditions
Moist, Well-Drained

Bloom Color
Not of Interest

Bloom Season
-
Hardiness
Tender Annual

Size
Small
Medium

Features
A large group of plants providing color all season through its foliage. Plants available favor both full sun and shade conditions. Excellent bedding plants and in containers.
Culture
Easily grown in high organic matter soils that retain moisture but are well drained. Soils should be high to average fertility.
Cultivars
Shade Types
'Wizard' Series
'Kong' Series
'Carefree' Series
'Chocolate Mint'
'Trailing Rose'
'Japanese Giant'
'Duckfoot' Series
'Red Ruffles'
Sun Types
'Alabama Sunset'
'Wasabi'
'Vino'
'Redhead'
'Honey Crisp'
'Henna'
'Solar' Series
'Mint Mocha'
Notes
Keep flower spikes removed to maintain short, compact good looking plants.