Directorio de Anuales
Este directorio se encuentra disponible únicamente en Inglés.
Salvia
Salvia sp.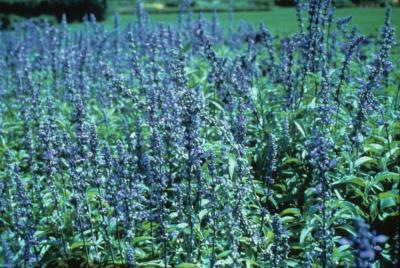 Salvia farinacea 'Victoria Blue'
Quick Profile
Exposure
Full Sun

Mature Height
18 - 36 Inches
Soil Conditions
Moist, Well-Drained

Bloom Color
Bi-color
Blue
White

Bloom Season
May - October
Hardiness
Tender Annual

Size
Medium
Tall

Features
Excellent continuous blooming salvia. Good for sun and dry areas. Attractive foliage. Reliable long term bloom.
Culture
Full sun, in moist well-drained soil
Cultivars
Bedding Salvia - Dwarf
'Maestro'
'Red Hot Sally'
'Salsa' series
'Scarlet Queen'
'Vista' series
'Cover Girl'
Bedding Salvia - Medium
Bedding Salvia - Tall
'Bonfire'
'Lighthouse' series
'Brazilian Purple'
Mealy Cup Sage - Dwarf
'Rhea'
'Saga Blue'
'Strata'
Mealy Cup Sage - Tall
'Fairy Queen'
'Evolution'
'Victoria' series
Bloody Sage
'Coral Nymph'
'Snow Nymph'
'Forest Fire'
'Summer Jewel' series
Notes
Excellent bedding plant. Attracts butterflies and hummingbirds. Good as a cut flower and dries well.