Wednesday, May 16, 2012
Purdue University's Larry Bledsoe reports that he had found hatched rootworm larvae in the Lafayette area and that this is the earliest he has ever seen in his 35 years. Here is the chart courtesy of the Purdue Pest and Crop Newsletter.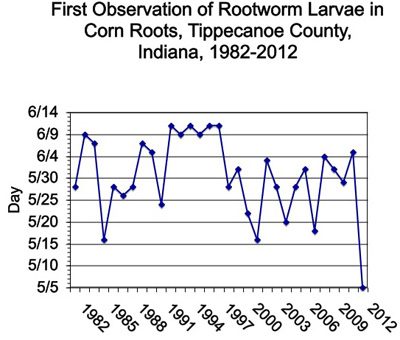 Check out the full article
here.
Read Mike Gray's advice in
the Bulletin.

I found another website that is predicting a high risk from corn rootworm in East Central Illinois. It is an interesting website that is using a variety of techniques to predict corn earworm, rootworm and western bean cutworm activity. It appears to be sponsored by Monsanto. It is worth checking
out.
With an early hatch and small corn at very susceptible stage, the risk appears to be very high, especially for non-rootworm Bt hybrids. As Mike Gray mentions in his article if you find damage on Bt hybrids please let us know.