Monday, March 18, 2013
A year ago on March 14, 2012 we were having temperatures in the high 70''s and low 80's. Not the case this year. Spring of 2012 was certainly confusing for us and our landscape plants. Spring last year was early and rushed with the heat pushing our spring bulbs and early perennials to grow and flower quickly. For many landscapes the spring flower show was over in 3-4 weeks.
No one is talking an early spring this year and we really would benefit from having average spring. Average would mean a longer period of cool weather and ample rains to soak into the soil that would support growth well into the summer. The cooler weather will allow for a better bloom show for our flowering trees, shrubs and flowers in the landscape. Flower petals will last longer and stay brighter in cooler temperatures. Cooler soil temperatures will also mean that our cool season lawns will perform better too. Kentucky bluegrass mixes and blends will have a longer opportunity to grow and fill in, making them more competitive against lawn weeds like crabgrass. Grasses will also have the time to reestablish roots systems that have been heaved up from the freezing and thawing cycles we have had and will continue to have until our nighttime and daytime temperatures become more constant.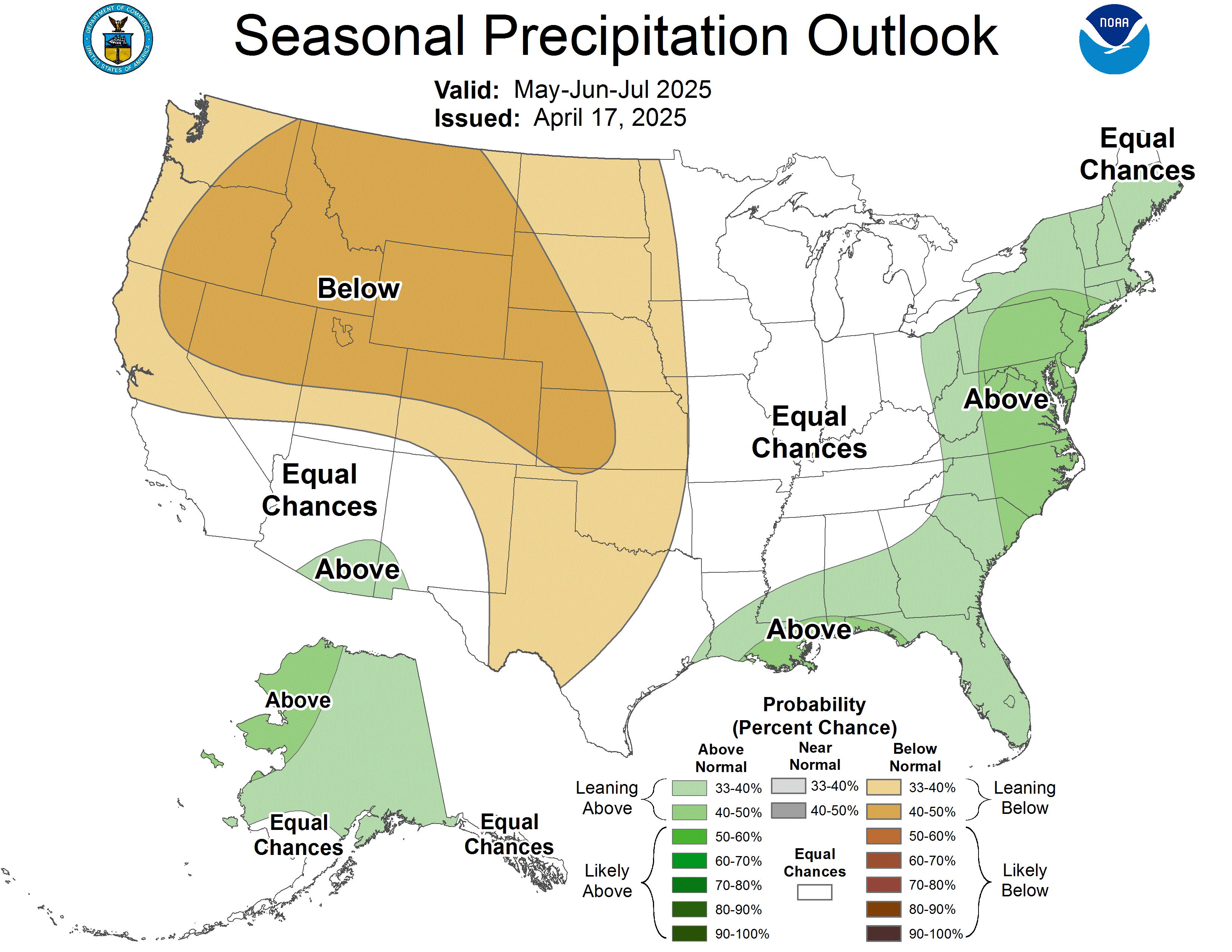 Trees, shrubs and both needle and broadleaved evergreens will greatly benefit from a cooler, wetter spring. Needle and broadleaved plants need to recharge the moisture that was lost over the winter so when warmer spring weather arrives, we do not see dried out needles and leaves. Trees and shrubs need that moisture just as much, but it is just not as obvious. During the drought of 2012, plants coped with moisture loss in the soil as best they could. This would mean that a percentage of viable roots ended up dying and now the remaining root system has to now support the entire canopy. Having soil moisture readily available will make that task easier and can allow the regrowth and recover the root system as well.
Some are predicting another summer of dry weather with the worse being west of the Mississippi. It there is any stock in this, then perhaps gardeners should focus on the spring vegetable garden by planting a lot more the vegetables that are favored by cooler weather. Consider shorter season maturing crops over our typical long season choices. As the summer progresses we will know if it is wise to plant the fall garden by mid-summer as we normally do. If there is interest in the summer garden, then plan on using mulches to conserve the water that we will need to provide to our summer plantings through the heat and dry conditions. Another consideration is to plant those crops where we harvest the entire plant to eat rather that those crops that produce a fruit like Tomatoes and Peppers.
Plants that produce fruit need lots of water and average temperatures so flowers do not abort do to high heat and the water so the fruits quickly grow to maturity. Gardeners being the ever optimistic group are going to start spring plantings and adapt to our ever changing weather. What is sown and grown may be a little less than traditional, yet gardens will be planted and weeds will be pulled and lots of vegetables will be eaten and shared with friends and neighbors.