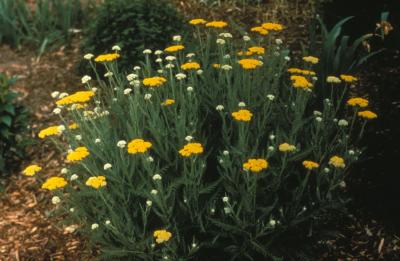 Achillea 'Coronation Gold'
Quick Profile
Exposure
Full Sun

Mature Height
18 Inches - 3 Feet
USDA Hardiness Zones
3 - 9
Soil Conditions
Dry

Foliage Color
Silver/White

Bloom Color
Yellow

Bloom Season
June - August
Size
Medium

Features
Large clusters of yellow flowers, 4 inches across. Strong upright stems with aromatic silvery gray foliage.Forms large clumps.
Culture
Needs full sun, and very well drained soils. When put in more fertile soil they tend to flop over and will tend to spread faster and become more agressive. Drought tolerant.
Cultivars
'Moonshine' 18-24 inches tall, more compact, sulfur yellow flowers, blooms earlier.
'Terracotta' 2-3 feet tall, peach color flowers that change to terra cotta as they age.
'Coronation Gold' 2-3 feet, yellow flowers up to 4 inches in diameter
Notes
Attracts butterflies, has fragrant foliage, deer and rabbit resistant, good for cutting and drying.