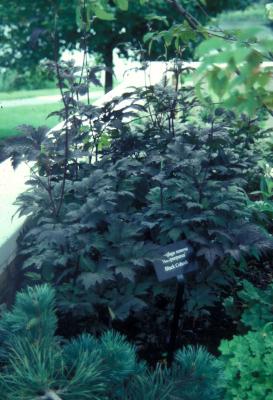 Cimcifuga Black Cohash
Quick Profile
Exposure
Partial Sun/Shade

Mature Height
3 - 8 Feet
USDA Hardiness Zones
3 - 8
Soil Conditions
Moist, Well-Drained

Foliage Color
Green
Purple

Bloom Color
White

Bloom Season
August - September
Size
Tall

Features
Tall stately plant with deeply cut foliage and large plumes of white flowers. Good for late season flowering.
Culture
Needs a moist soil in a part to full shade site
Cultivars
'Atropurpurea' 6-7 feet tall dark green foliage with purple stems and white flowers
'Brunette' 3-4 feet tall dark purple foliage with white flowers
'Hillside Black Beauty' 4-7 feet tall purple black foliage white flowers
Notes
Best grown in soils that are uniformly moist and shaded for best foliage quality. Long lived, slow growing perennial. Fragrant flowers. Reportedly deer and rabbit resistant. Attracts butterflies.