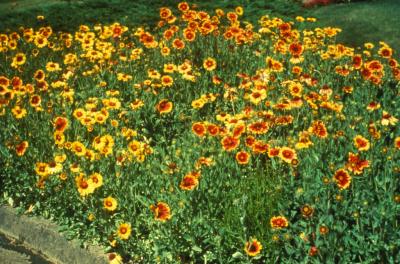 Quick Profile
Exposure
Full Sun

Mature Height
18 - 24 Inches
USDA Hardiness Zones
2 - 10
Soil Conditions
Dry

Foliage Color
Green

Bloom Color
Multicolor
Orange
Red
Yellow

Bloom Season
June - October
Size
Medium

Features
Easy to grow, long blooming perennial. Offers bicolor daisy like flowers.
Culture
Prefers well-drained to dry soils with low fertility in full sun.
Cultivars
'Burgundy' 18-24 inches tall, large red flowers
'Fanfare' 18-24 inches tall, red flowers with trumpet like tips
'Goblin' 10-14 inches tall, red and yellow flowers on a short compact plant
'Summer Kiss' 12-18 inches tall, apricot flowers
Notes
Easy to grow but needs very well-drained soil to survive the winter. Deadhead to insure continual bloom. Don't over fertilize. Drought, heat and salt tolerant. Reported to be deer resistant.