Perennes Comunes
Este directorio se encuentra disponible únicamente en Inglés.
Common Yarrow
Achillea millefolium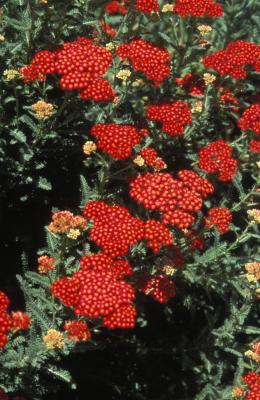 Achillea 'Red Velvet'
Quick Profile
Exposure
Full Sun

Mature Height
1 - 2 Feet
USDA Hardiness Zones
3 - 9
Soil Conditions
Dry

Foliage Color
Silver/White

Bloom Color
Orange
Pink
Red
Yellow

Bloom Season
June - September
Size
Medium

Culture
Full sun and well-drained soil. When put in very fertile soil will tend to spread quicker and have a more open habit.
Cultivars
'Terracotta' 2-3 feet peach colored flowers fade to terracotta
'Angelique' 2-3 feet dark red flowers
'Appleblossom' 18-24 inches lilac pink flowers
'Ortels Rose' 12-18 inches pink flowers, very strong grower
Notes
Overly fertile soils result in rapidly spreading plants that tend to flop.