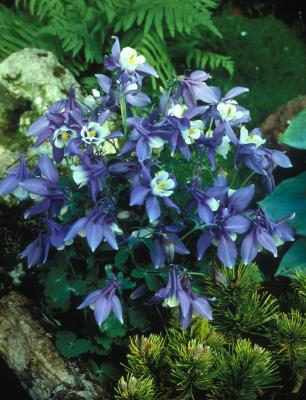 Aquilegia 'Spring Magic'
Quick Profile
Exposure
Full Sun
Partial Sun/Shade

Mature Height
12 Inches - 3 Feet
USDA Hardiness Zones
3 - 9
Soil Conditions
Moist, Well-Drained

Foliage Color
Green

Bloom Color
Bi-color
Blue
Peach
Pink
Purple
Red
White

Bloom Season
May - June
Size
Medium

Features
Airy, graceful fan like blue-green foliage and large, spurred flowers in a wide range of colors
Culture
Sun to partial shade in moist well-drained soils
Cultivars
Numerous. Some include:
'Biedermeier' 9-12 inches compact, blue-white flowers
'Crimson Star' 2-3 feet crimson-white flowers
'Double White' 2-3 feet white double flowers
'Spring Song' 3 feet light pink flowers with very long spurs
'Mini Star' 6-12 inches blue-white flowers
Notes
Plants tend to deteriorate over time especially if drainage is poor. Count on 3 years for most plantings. So need to replace periodically.
They tend to reseed freely, but hybrids will not come true from seed.
Attractive to hummingbirds
Many species of columbine are available that tend to be more vigorous and are less favored by leaf miner.