Perennes Comunes
Este directorio se encuentra disponible únicamente en Inglés.
Heartleaf Bergania
Bergania cordifoia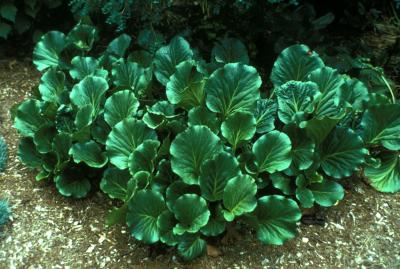 Quick Profile
Exposure
Partial Sun/Shade

Mature Height
12 - 18 Inches
USDA Hardiness Zones
3 - 8
Soil Conditions
Moist, Well-Drained

Foliage Color
Green

Bloom Color
Pink

Bloom Season
April - May
Size
Small

Features
Large, glossy green leaves on a low growing plant. Clusters of attractive flowers appear early in the spring. Provides interesting texture for the garden. Semi-evergreen during the winter.
Culture
Prefers moist, well-drained organic soils in a semi-shaded location. If rhizomes start to push up and out of the soil top dress lightly with compost to cover.
Cultivars
'Winter Glow' 12-15 inches tall leathery leaves, red flowers
Notes
Plants remain semi-evergreen over the winter and may also turn a bronze color.