Perennes Comunes
Este directorio se encuentra disponible únicamente en Inglés.
Tickseed
Coreopsis grandiflora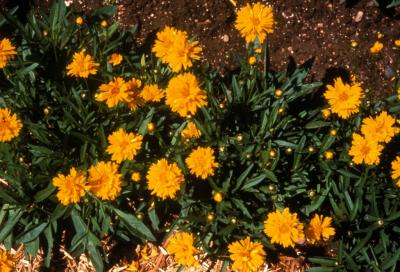 Tickseed Coreopsis 'Early Sunrise'
Quick Profile
Exposure
Full Sun

Mature Height
1 - 2 Feet
USDA Hardiness Zones
5 - 9
Soil Conditions
Dry

Foliage Color
Green

Bloom Color
Yellow

Bloom Season
June - August
Size
Medium

Features
Golden yellow flowers on round plants with narrow green leaves. Almost season long bloom potential
Culture
Well-drained to dry soil in full sun location
Cultivars
'Baby Sun' 12-18 inches tall single yellow flowers with red markings
'Sunray' 12-18 inches tall double yellow flowers
'Rising Sun' 12-18 inches tall double yellow flowers with mahogany centers
Notes
With deadheading, plant can provide bloom almost all season. Short lived if not given good drainage. Best to divide every 3 years to maintain vigor.