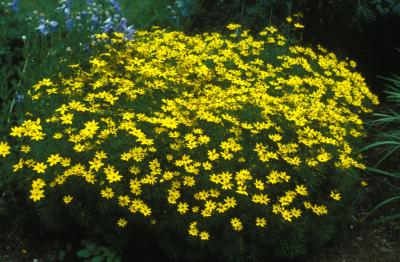 Coreopsis 'Golden Shower'
Quick Profile
Exposure
Full Sun

Mature Height
2 - 3 Feet
USDA Hardiness Zones
3 - 9
Soil Conditions
Moist, Well-Drained

Foliage Color
Green

Bloom Color
Yellow

Bloom Season
June - October
Size
Medium

Features
Yellow flowers on rounded plants with fine, feathery foliage. Excellent plant for almost continuous summer flowering.
Culture
Prefers well-drained soils in a sun location.
Cultivars
'Moonbeam' 12-18 inches tall, soft yellow flowers
'Golden Showers' 2-3 feet tall, dark yellow flowers
'Zagred' 12-18 inches tall, small yellow flowers
'Heavens Gate' 18-24 inches tall, large pink flowers with red centers
'Rosea' 12-15 inches tall, pink flowers, vigorous spreading plant
Notes
Long living perennial. Can spread by underground rhizomes. Drought tolerant. Cut back after their first flush of flowers for an autumn flush of flowers. Don't over-fertilize as it leads to soft, floppy plants.