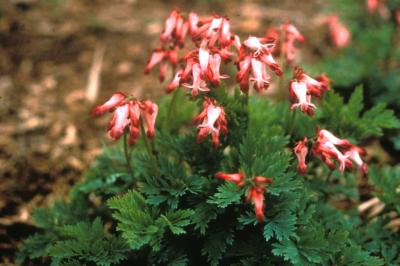 Quick Profile
Exposure
Partial Sun/Shade

Mature Height
15 - 18 Inches
USDA Hardiness Zones
3 - 9
Soil Conditions
Moist, Well-Drained

Foliage Color
Green

Bloom Color
Pink
Red
White

Bloom Season
May - August
Size
Medium

Features
Mounded plant form, fine textured fern like foliage, exceptional long blooming season
Culture
Prefers a well-drained moist soil in a part to full shade site.
Cultivars
'Ivory Hearts' 6-12 inches tall large white flowers, blue green foliage
'King of Hearts' 12-15 inches tall, pink flowers , very fine foliage
'Luxuriant' 12-18 inches tall pink flowers, repeat blooming
Notes
Repeat blooming bleeding heart. Needs rich organic soils that drains well especially during the winter. Do not plant too deep as this will cause the plant to rot. Uniform summer moisture ensures consistent summer flowering.