Perennes Comunes
Este directorio se encuentra disponible únicamente en Inglés.
Spike Gayfeather
Liatris spicata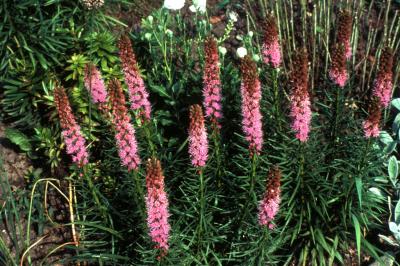 Quick Profile
Exposure
Full Sun

Mature Height
2 - 3 Feet
USDA Hardiness Zones
3 - 9
Soil Conditions
Moist, Well-Drained

Foliage Color
Green

Bloom Color
Lavender
Purple
White

Bloom Season
July - August
Size
Medium

Features
Tall vertical plant with fine textured foliage the entire length of the stem. Interesting spike flowers that open from the top down.
Culture
Moist well-drained soil in a full sun location. Good drainage is critical in maintaining the plant. Drought tolerant once established.
Cultivars
'Kobold' 18-24 inches tall, compact habit, lavender flowers
'Floristan Weiss' 18-24 inches tall, creamy white flowers
'Floristan Violet' 3 feet tall, purple flowers
Notes
Good drainage is critical especially over the winter. May need staking. Attracts butterflies and hummingbirds. Reported to be deer resistant.