Perennes Comunes
Este directorio se encuentra disponible únicamente en Inglés.
Russian Sage
Perovskia atriplicifolia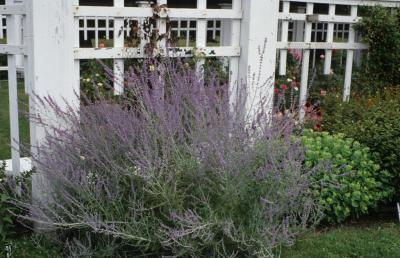 Quick Profile
Exposure
Full Sun

Mature Height
2 - 3 Feet
USDA Hardiness Zones
5 - 9
Soil Conditions
Dry

Foliage Color
Silver/White

Bloom Color
Blue

Bloom Season
July - September
Size
Medium

Features
Loose open plant with a strong upright growth habit. Silver gray foliage and blue flowers late in the season.
Culture
Well drained soil in a full sun location
Cultivars
'Blue Spire' 2-3 feet tall, compact, fragrant foliage, light blue flowers
'Little Sprite' 18-24 inches tall, compact, lavender flowers
Notes
Easy plant. Needs very well drained soil and is critical for survival. Seldom needs dividing. Drought tolerant.