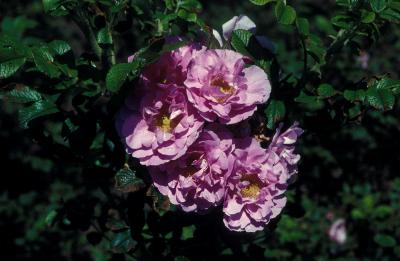 Quick Profile
Exposure
Full Shade

Mature Height
4 - 6 Feet (Width 4feet - 5 feet)
USDA Hardiness Zones
3 - 8
Soil Conditions
Moist, Well-Drained

Bloom Color
Pink

Bloom Season
June - August
Size
Tall

Features
Hybrid rugosa rose with a spicy fragrance and 3 inch semi-double flowers (petal count 25). Recurrent bloomer in summer with large persistent red fruit in fall. Fall foliage color is orange/yellow. Blooms best during cool weather. Excellent as specimen or hedge.
Culture
Full sun and well-drained soil. Prune by the renewal method removing one-third of the oldest canes to the soil line in the spring as needed to keep the shrub open and new canes in production. Prune the stem back to a branch angle (a process called heading back) as needed to reduce height and width.
Notes
Extremely winter hardy. Memeber of the Candian Explorer series of roses.