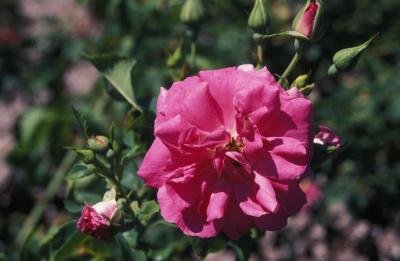 Quick Profile
Exposure
Full Shade

Mature Height
6 - 10 Feet (Width 5 feet)
USDA Hardiness Zones
3 - 9
Soil Conditions
Moist, Well-Drained

Bloom Color
Red

Bloom Season
June - October
Size
Tall

Features
Large spreading shrub rose when allowed to grow unsupported but can also be treated as a climber due to the long trailing canes. Glossy foliage. Red double flowers 3 inches wide (petal count 15-25) and has a slight fragrance.
Culture
Full sun, well-drained soil. Prune by the renewal method removing one-third of the oldest canes at soil line in the spring as needed to keep the shrub open and allow for new cane production. Prune the stem back to a branch angle (a process called heading back) as needed to reduce width and height.
Notes
Flowers are formed in large clusters. Extremely winter hardy. Member of the Canadian Explorer series of roses.