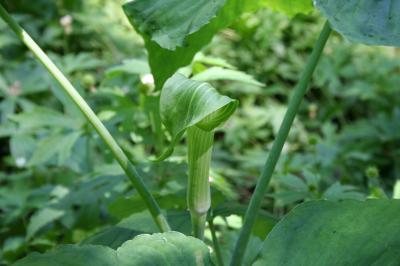 Flower of Jack in the Pulpit
Quick Profile
Exposure
Full Shade
Partial Sun/Shade

Mature Height
1 - 3 Feet
USDA Hardiness Zones
4 - 9
Native To:
Illinois
Indiana
Iowa
Michigan
Missouri
Ohio
Wisconsin

Soil Conditions
Moist, Well-Drained
Wet

Bloom Color
Bi-color
Green
Purple

Bloom Season
April - June
Unusual flowers; a stalk of tiny flowers ('Jack') surrounded by a spathe (the 'pulpit'); red berries when female flowers are present.
Partial to full shade; moist to wet organic soils.
Found in wet, shady sites.