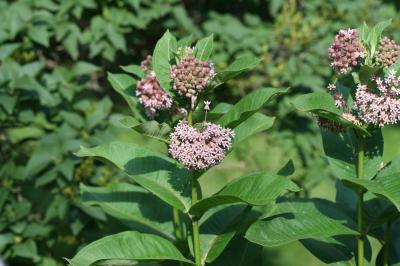 Common Milkweed
Quick Profile
Exposure
Full Sun

Mature Height
3 - 5 Feet
USDA Hardiness Zones
3 - 9
Native To:
Illinois
Indiana
Iowa
Michigan
Missouri
Ohio
Wisconsin

Soil Conditions
Dry
Moist, Well-Drained

Bloom Color
Lavender
Pink

Bloom Season
June - August
Features
Clusters of light pink or lavender flowers followed by warty seedpods filled with seeds attached to long white hairs.
Culture
Full sun; moist, well drained soils to dry soils.
Notes
Found in fields and along roadsides. Monarch butterfly larvae feed on the foliage of this plant and absorb chemicals that make them toxic to predators. This plant can grow very aggressively.