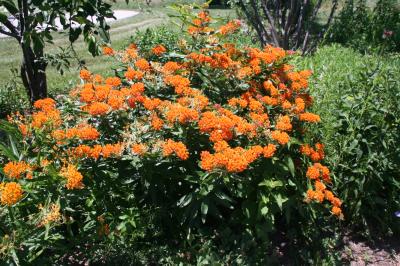 Butterfly weed in flower
Quick Profile
Exposure
Full Sun

Mature Height
1 - 2 Feet
USDA Hardiness Zones
4 - 9
Native To:
Illinois
Indiana
Iowa
Michigan
Missouri
Ohio
Wisconsin

Soil Conditions
Dry
Moist, Well-Drained

Bloom Color
Orange
Red

Bloom Season
June - September
Features
Clusters of orange to red-orange flowers followed by narrow seedpods filled with seeds attached to white fluff.
Culture
Full sun; very tolerant of dry, infertile soils.
Notes
Found in fields and dry soils.