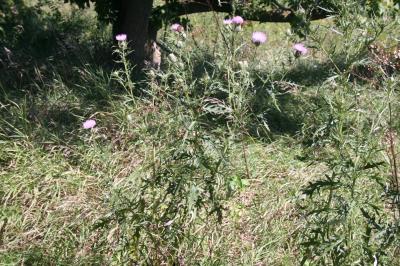 Field Thistle
Quick Profile
Exposure
Full Sun

Mature Height
3 - 9 Feet
USDA Hardiness Zones
2 - 8
Native To:
Illinois
Indiana
Iowa
Michigan
Missouri
Ohio
Wisconsin

Soil Conditions
Moist, Well-Drained

Bloom Color
Lavender
Purple

Bloom Season
July - October
Features
Large, purple, thistle flowers, up to 2 inches across.
Culture
Full sun; moist, well drained soils.
Notes
Found in fields and prairies. Short lived perennial that readily re-seeds. Eastern Goldfinches eat the seeds and use the tufts of hair from seeds to line their nests. Considered a primary noxious weed in Iowa.