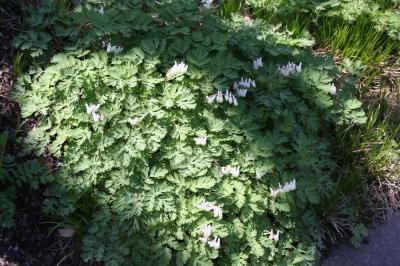 Dutchman's Breeches
Quick Profile
Exposure
Full Shade
Partial Sun/Shade

Mature Height
6 - 12 Inches
USDA Hardiness Zones
3 - 7
Native To:
Illinois
Indiana
Iowa
Michigan
Missouri
Ohio
Wisconsin

Soil Conditions
Moist, Well-Drained

Bloom Color
White

Bloom Season
March - April
Features
White flowers that resemble pantaloons hanging upside down; deeply cut, ferny foliage.
Culture
Full to partial shade; moist, well drained sites.
Notes
Found in moist, shaded sites. Goes dormant in early summer (foliage dies down).