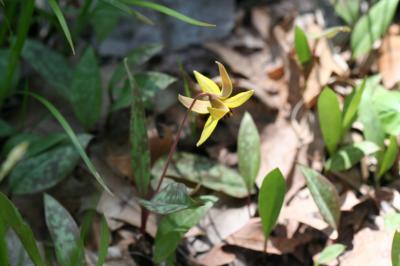 Flower of Trout Lily
Quick Profile
Exposure
Full Shade

Mature Height
6 - 9 Inches
USDA Hardiness Zones
3 - 8
Native To:
Illinois
Indiana
Iowa
Michigan
Missouri
Ohio
Wisconsin

Soil Conditions
Moist, Well-Drained

Bloom Color
Yellow

Bloom Season
March - May
Features
Yellow, nodding, lily-like flowers; at the base of the plant, two leaves mottled with dark spots.
Culture
Shade; moist, well drained sites with rich soil.
Notes
Found in woods. Trout Lily will naturalize (slowly). The plant goes dormant in summer (foliage dies down). Plants with only one leaf will not flower. Listed as threatened in Iowa.