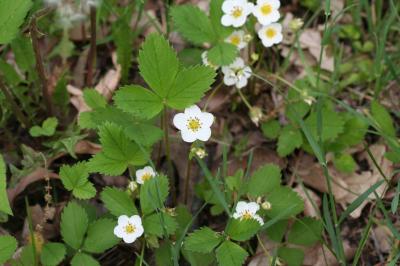 Wild Strawberry
Quick Profile
Exposure
Full Sun
Partial Sun/Shade

Mature Height
6 - 12 Inches
USDA Hardiness Zones
3 - 8
Native To:
Illinois
Indiana
Iowa
Michigan
Missouri
Ohio
Wisconsin

Soil Conditions
Moist, Well-Drained

Bloom Color
White

Bloom Season
April - June
Features
White flowers followed by red strawberries (small, but edible)
Culture
Full sun to partial shade; moist, well drained sites.
Notes
Found in prairies and open woods. Spreads by stolons and rhizomes.