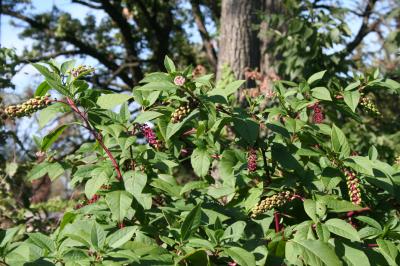 Pokeweed
Quick Profile
Exposure
Full Sun
Partial Sun/Shade

Mature Height
4 - 10 Feet
USDA Hardiness Zones
2 - 11
Native To:
Illinois
Indiana
Iowa
Michigan
Missouri
Ohio
Wisconsin

Soil Conditions
Moist, Well-Drained

Bloom Color
Green
White

Bloom Season
July - September
Features
Elongated clusters of small greenish-white flowers, followed by dark purple berries on red stalks.
Culture
Full sun to partial shade; moist, well drained soils.
Notes
Found in damp thickets and clearings. Often considered a weed. Many parts of the plant are poisonous. The fruits are eaten by various songbirds.