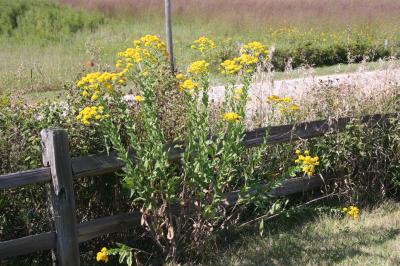 Stiff Goldenrod
Quick Profile
Exposure
Full Sun

Mature Height
1 - 5 Feet
USDA Hardiness Zones
3 - 9
Native To:
Illinois
Indiana
Iowa
Michigan
Missouri
Ohio
Wisconsin

Soil Conditions
Moist, Well-Drained

Bloom Color
Yellow

Bloom Season
August - October
Features
Yellow flowers in flat-topped clusters. Stiff leaves clasp the stems.
Culture
Full sun; moist, well drained soils.
Notes
Found in prairies and open woods. Goldenrods do not cause hayfever. Clump forming rather than spreading plant.