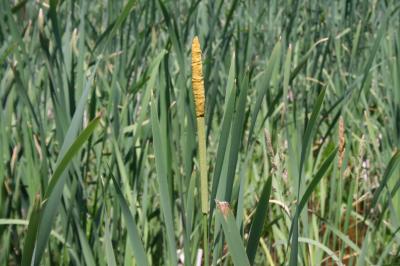 Common Cattail in flower
Quick Profile
Exposure
Full Sun

Mature Height
3 - 9 Feet
USDA Hardiness Zones
3 - 10
Native To:
Illinois
Indiana
Iowa
Michigan
Missouri
Ohio
Wisconsin

Soil Conditions
Wet

Bloom Color
Green

Bloom Season
May - July
Features
Numerous tiny female flowers in a sausage-shaped cluster. A more slender grouping of tiny male flowers sits directly above the female grouping. The female flowers, when pollinated form the well-know cattail.
Culture
Full sun; moist to wet soils; grows well in standing water.
Notes
Found in marshes and other wet areas. This plant will spread underground to form dense stands.