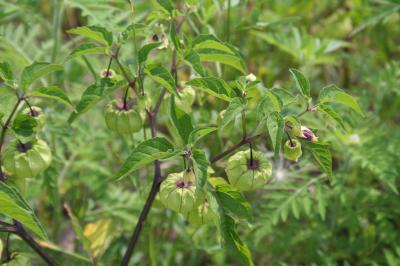 Fruit of Long Leaf Ground Cherry
Quick Profile
Exposure
Full Sun
Partial Sun/Shade

Mature Height
3 - 5 Feet
USDA Hardiness Zones
4 - 8
Native To:
Illinois
Indiana
Iowa
Michigan
Missouri
Ohio
Wisconsin

Soil Conditions
Moist, Well-Drained

Bloom Color
Yellow

Bloom Season
July - September
Drooping bell-like, flowers, pale yellow with purple or brown markings inside. Cherry tomato-like fruit in a green, papery covering.
Full sun to partial shade; moist, well drained soils.
Found in fields and pastures. Spreads by rhizomes.