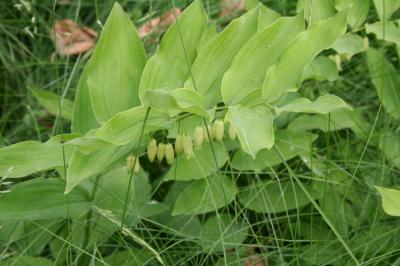 Solomon's Seal in flower
Quick Profile
Exposure
Full Shade

Mature Height
1 - 3 Feet
USDA Hardiness Zones
3 - 8
Native To:
Illinois
Indiana
Iowa
Michigan
Missouri
Ohio
Wisconsin

Soil Conditions
Moist, Well-Drained

Bloom Color
White

Bloom Season
April - June
Features
White flowers in two's and three's dangling from the bottom of an arched stem; blue-black fruit follow the flowers.
Culture
Shade; consistently moist soils.
Notes
Found in moist woods. Spread by rhizomes to form colonies.