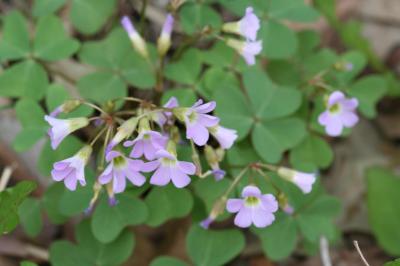 Flowers of Violet Wood Sorrel
Quick Profile
Exposure
Full Sun
Partial Sun/Shade

Mature Height
4 - 8 Inches
USDA Hardiness Zones
5 - 9
Native To:
Illinois
Indiana
Iowa
Michigan
Missouri
Ohio
Wisconsin

Soil Conditions
Moist, Well-Drained

Bloom Color
Lavender

Bloom Season
April - July
Lavender purple flowers and clover-like leaves; leaflets are reddish or purplish below.
Full sun to partial shade; moist, well drained soils.
Found in open woods and prairies. Will spread by runners that come from the underground bulbs. This plant is listed as threatened in Michigan.