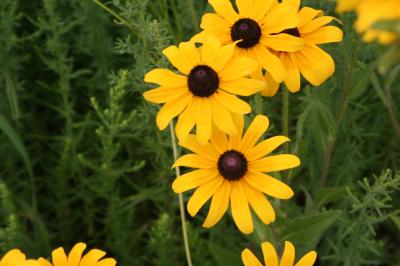 Black Eyed Susan
Quick Profile
Exposure
Full Sun

Mature Height
1 - 3 Feet
USDA Hardiness Zones
3 - 10
Native To:
Illinois
Indiana
Iowa
Michigan
Missouri
Ohio
Wisconsin

Soil Conditions
Dry
Moist, Well-Drained

Bloom Color
Yellow

Bloom Season
June - October
Features
Yellow daisies with drooping petals and a dark cone in the center.
Culture
Full sun; moist, well drained soils. Avoid crowding plants to reduce fungal problems. Tolerates some dryness.
Notes
Found in fields and open woods. This species may be biennial or perennial, but is often utilized in the garden as an annual.