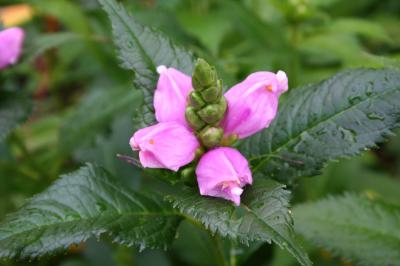 Flowers of Rose Turtlehead
Quick Profile
Exposure
Full Sun
Partial Sun/Shade

Mature Height
2 - 3 Feet
USDA Hardiness Zones
5 - 9
Native To:
Illinois
Indiana
Iowa
Michigan
Missouri

Soil Conditions
Moist, Well-Drained
Wet

Bloom Color
Pink

Bloom Season
July - September
Pink hooded flowers held closely on spikes. The flowers resemble turtle heads.
Full sun to partial shade. Soil needs to be consistently moist to wet.
Found in moist woods and other wet sites. Listed as endangered in Michigan.