Growing Plants Indoors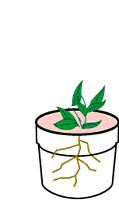 All plants need these seven things to grow: room to grow, the right temperature, light, water, air, nutrients, and time.
Room to grow.
All plants like to have room to grow. The above ground portions of the plant need space so leaves can expand and carry out the job of making food. Roots also need room to grow. Plants growing in small spaces will have their roots crowded, and that results in smaller amounts of growth.