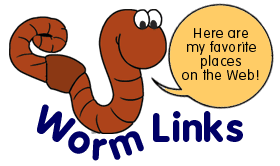 Here are some of my favorite places on the World Wide Web. By clicking on these links you will be leaving my website. Be sure to bookmark this page or use your browser's BACK button to come back.
Worm Woman
Meet the worm woman who started it all!
Worm Bin Project
Students will learn about decomposition and the worm's life cycle.
Mazon Creek Fossils
Information on worm fossils in the Chicago area.
Science Museum of Minnesota Online Worm Project
See first graders at the Museum Magnet School exploring the world of worms.
Worm Words Glossary for Teachers
Learn the words that pertain to worms and worm composting.
Worm Supplies
List of worm sellers in the United States and Canada
A Guide to Worm Composting
Tips for making and using a worm bin.